Can I really send 30,000 texts starting at $49?
Yes, and with no hidden fees. Plans start at $49/mo for 30,000 texts. Our 90,000k texting plan is $199/mo,  but many businesses find our standard plan perfect for texting their customers. That's under $0.002 cents per text!
How does your pricing work?
Easy! You buy a plan, and just start sending! Most of our plans come with tens of thousands of texts each month and allow you to up to 3000 daily depending on your plan. If you need to send more that day, you can anytime on-demand for just 1.5 cents each. It's Simple, transparent and a fraction of the cost of anyone else.
How is Saay so cheap?
What you should be asking is why our competitors are so expensive. Saay and our partner firms send out over a billion opt-in messages each year. This gives us ENORMOUS buying power and we're not greedy goblins.  Try it, sign up for a risk-free trial.
What's the catch?
No catch. Most plans allow you to send out tens of thousands of texts each month. Your monthly text plan is automatically divided equally over the days in the month.
Example: Your monthly allotment is divided over 30 days.  If you need to exceed your daily allotment, it's only 1.5 cents per additional text for that day.
Explain your Free Trial.
Your first 200 Messages are FREE and you have 7 days to use them.
You can cancel anytime during the 7 day free trial and you will not be charge, its a simple as pushing 1 button. This allows you to test Saay 100% FREE With ZERO RISK!
How fast can I send messages out?
Pretty darn quick. On average, your job will finish sending within 20 minutes to a few hours, depending on the size of your list and on how many channels are available at that moment. Try it, sign up for a risk-free trial.
How many message can I send each day?
You can send thousands of messages each day depending on your plan. If you need to send out more, just buy a bigger plan. If you need to send out less, buy a smaller plan.
If you need to send out more on some days, NO PROBLEM, you can exceed your daily allotment ANYTIME for only 1.5 cents per extra text.
Do I get keywords and phone numbers for people to text?
No, Saay is an outbound texting service. It's designed for you to upload your opt-in list and send messages directly to your list.  You can text your customers all at once using our bulk send feature, or engage recipients one-on-one with Peer-Peer two-way texting. The system automatically assigns you phone number that is used for your caller ID.
Note: We use toll-free numbers for Bulk SMS and Local numbers for P2P texting
Any other costs for MMS, phone numbers, and mobile lookup ect.?
No hidden costs, even MMS is included FREE!
The system automatically assigns you numbers FREE these phone numbers are used for your caller ID. We use toll-free numbers for Bulk SMS and Local numbers for P2P texting, We also make sure your numbers are all mobile lines FREE!
Why will SMS Marketing work for your business?
Companies using SAAY have 98% Open Rate and 45% Response Rate.
Use Bulk SMS to: 
 Communicate instantly

 Convert more leads

 Re-engage with shoppers

 Improve customer relationships

Send marketing campaigns and promotions to all your customers at the same time

Send internal bulk notifications to your employees
What is SAAY's Capacity for Mass Texting?
Saay has a massive network for SMS messaging with over 80,000 dedicated channels. The sky's the limit for your capacity. Whatever speed you would like to run at, we have a package for you. View our pricing and plans here.
How do I get Started Sending Bulk SMS ?
Sign up for a risk-free account

Import your opt in numbers and data files in Excel or .txt format

Write your message, select your preferences.

Start sending!
Do I Need to Have Customer Permission to Send a Bulk SMS?
Yes, and this is without exception. You are required to have permission from your customers if you would like to send them a bulk SMS. Obtaining permission is incredibly easy. You will be surprised how fast you can grow your permission base lists. Simply place and opt in notice on your website while an individual is signing up for a product or trial or making a purchase.
Once you have this permission, you will now have a new avenue to reach your clients and drive your message. We don't need to tell you that SMS will be the most effective form of communication in 2021.
The U.S. Federal Communication Commission regulations only allow sending marketing SMS to users who intentionally opt in to receive messages from your brand. Besides, you must provide a simple opt out method, for instance, by texting a "STOP" message in reply. 
At the same time, the U.S. Federal Trade Commission requires you to check your phone number list against the National Do Not Call Registry.
Here are some examples of some common opt in language
I consent to receive SMS messages from ABC Inc. Message & data rates may apply, Reply "STOP" to stop txts, reply "help" for help. 
By checking this box you agree to receive marketing messages at the number provided. Consent is not a condition of purchase. Message and data rates may apply. Message frequency varies. Reply "help" for help or "stop" to cancel. View privacy policy and terms of service.
What is Bulk SMS?
Bulk SMS is a technique for sending massive quantities of SMS at a large database from an online platform.
With SAAY, you can send large volumes of SMS directly from your computer at affordable prices.
Helpful Opt In Tips – Sending Bulk SMS Messages. 
The first tip we have for the SMS opt in process is to be transparent and upfront with your customers about the SMS campaign you are running. What does this mean, exactly? It means that although special offers and promotions should be fun surprises, most of your campaign should be expected by your audience.

The way to do this is by setting the proper expectations, which user engagement metrics show improve customer relationships. Right off the bat from the first text, your audience should know the following:
Purpose: Although they should already have some idea of the purpose of the campaign, given that they opted in for it, you should still remind them of why you will be texting them.

Frequency: Next, you should let them know how often they should expect messages. Most SMS professionals advise less than 8 per month and no more than 2 per week, so try to keep your frequency within these boundaries.

SMS and data rates: Even though it is uncommon for mobile plans to have a set messaging limit, make sure you inform them that standard messaging rates do apply.

Privacy policy/terms and conditions: You can list the privacy policy, terms and conditions within the message, or you can simply include them within a call-to-action link. Regardless, you need to make this easy for your audience to access.
By sharing all of this with your audience from the get go, you are building trust with them. If you can do this well, customers will be excited to receive messages from you, not dread them.
How does Peer to Peer Texting Work? 
Peer-to-peer texting works by allowing an individual to create a text message and quickly manually send each message to their list of recipients. Everytime a recipient replies it is placed in an easy reply area. One individual can text thousands of people an hour and easily manage and reply to these texts. The power of peer-to-peer texting is in the personal 1:1 engagement it allows as well as the ability to quickly send messages on an individual basis.
Why use Peer to Peer Texting
Unlike bulk or mass communication methods which can often be ignored peer-to-peer texting is personalized communication. A recipient who knows they are being contacted by a human being and that they can text back making the engagements level much higher.
Is Peer to Peer Texting Legal? 
Source: Here
On June 25, 2020, the Federal Communications Commission (FCC) issued a Declaratory Ruling  directly addressing, for the first time, peer-to-peer text messaging in the context of the Telephone Consumer Protection Act (TCPA). Peer-to-peer (P2P) text messaging is a communications technology that enables organizations to use either an online platform or a mobile application to send text messages to recipients from a single sender to a single recipient to initiate a two-way communication. The Ruling was made in response to a 2018 petition filed by the P2P Alliance (the "Alliance"), a coalition of providers and users of P2P text messaging services for schools, non-profits, and other groups. The Ruling signifies a win for P2P messaging platforms that lack the capacity of an autodialer as defined by the TCPA, as well as a caution to those platforms that possess such capacity and thus bear the accompanying risk of violating the TCPA. 
The Ruling
In its ruling, the FCC first clarified "that the fact that a calling platform or other equipment is used to make calls or texts to a large volume of telephone numbers is not determinative of whether that equipment constitutes an autodialer under the TCPA."  Instead, whether the calling platform or equipment is an autodialer under the TCPA "turns on whether such equipment is capable of dialing random or sequential telephone numbers without human intervention."  Thus, "[i]f a calling platform is not capable of dialing such numbers without a person actively and affirmatively manually dialing each one, that platform is not an autodialer and calls made using it are not subject to the TCPA's restrictions."  
What is an IVR Survey 
First, did you know IVR surveys are included in every plan at not extra cost? An IVR survey or automated survey  Is Automated message sent out over the phone  play gives you the ability to interact and answer questions. A pre-recorded message is played introducing the survey and also reads the survey questions. The respondent is able to use their keypad to select their answers or they can also select answers by saying yes or no. Saay also gives users the ability to record open ended questions from their respondents.
What are the uses for a sending a survey
Saays surveys and notifications are used for a multitude of purposes. They are excellent for customer satisfaction surveys or to poll a group of people to ask them key questions on a topic to gain their insight. Many political users use this technology to conduct public opinion polling and to gauge election support.
You can also send out a mass automated message informing a group of people of key information. Example school closures, local food drives or even emergency notifications.  it's important to remember that any sales or marketing messages using automated technology requires the customers explicit permission to receive the
How many survey questions can I ask?
You can ask an unlimited number of questions using say survey software.  sign up for an account risk-free and try it out.
Is there a list of survey features available?
Saay is the most powerful survey tool in the world. Here are just a few of our many features. USE PRECISE POLL
What are the laws sending IVR & telephone surveys
Laws can vary state-to-state however the federal FCC & TCPA laws are clear that surveys that are sent out for a non sales or marketing purpose are exempt from certain marketing rules and laws. Of course It is up to you to do your research on these laws and rules. Saay does provide an in-depth suit of compliance tools to help you always remain compliant.
Do I require my customers to opt in? 
YES!, if you plan on using Saay you MUST have direct permission from the individual you are contacting, and you MUST be able to show this process and proof of opt-in. The FCC refers to this as Prior Express Consent.
Prior Express Consent, should be obtained at the time of phone number collection and must be a voluntary part of the sign-up. It must be an optional choice to give consent.
It's easy to collect Prior Express Consent from customers online.
We find it easiest to put a simple checkbox with a statement at the point of phone number collection.
Components of an opt-in disclosure for SMS – Best Practices 
For SMS messages you should include the following information when asking for permission to send messages.
(Permission to Contact) – I give permission for

(Cost Disclosure) Msg & data rates apply

(Your Org Name) who will the messages be from 

( Message Frequency) Msg frequency 1/mo

(Opt-out) Reply Stop to Stop or Reply Stop to End or "stop" to cancel

Consent is not a condition of purchase. 

Reply Help for Help
How easy is it to collect opt-ins from my customers? 
You would be surprised to see how fast you can collect opt-in data.
Let's say you get 1000 sign-ups monthly and 70% gives you permission to contact them with an SMS or automated call. After only a few months you could have permission to contact thousands of people.
Here are some examples of some common opt-in language
SMS OPT IN EXAMPLES:
I consent to receive SMS messages from ABC Inc. Message & data rates may apply, Reply "STOP" to stop txts, reply "help" for help.
By checking this box you agree to receive marketing messages at the number provided. Consent is not a condition of purchase. Message and data rates may apply. Message frequency varies. Reply "help" for help or "stop" to cancel. View privacy policy and terms of service.
By providing your phone number, you are consenting to receive calls and texts, including automated calls and texts, to that number from ABC INC MSG & Data rates may apply. By providing your cell phone or mobile number you are also consenting to receive peer-to-peer messages from ABC inc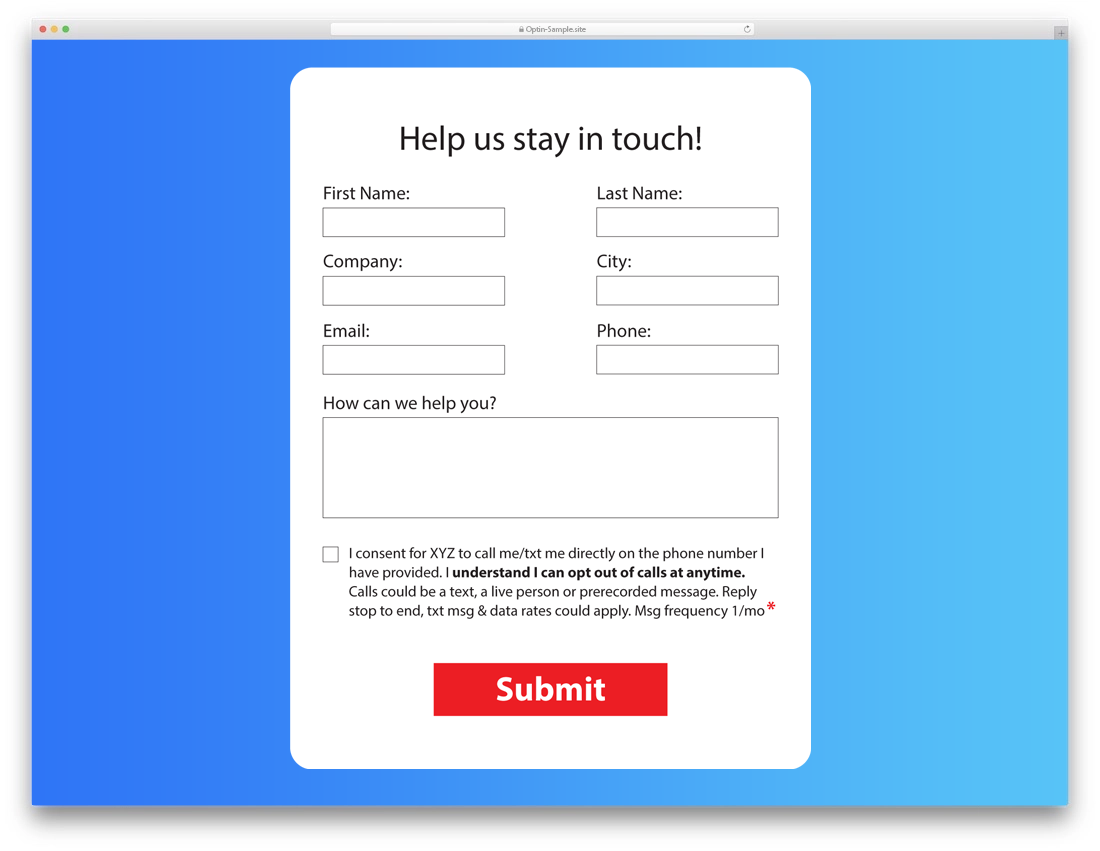 DISCLAIMER: This site is a cursory summary only and likely contains errors and omissions.  This is not legal advice. You should not act or rely on any information contained on this website without seeking the advice of an attorney.